Hyundai IONIQ 5 – A Three-Time World Champion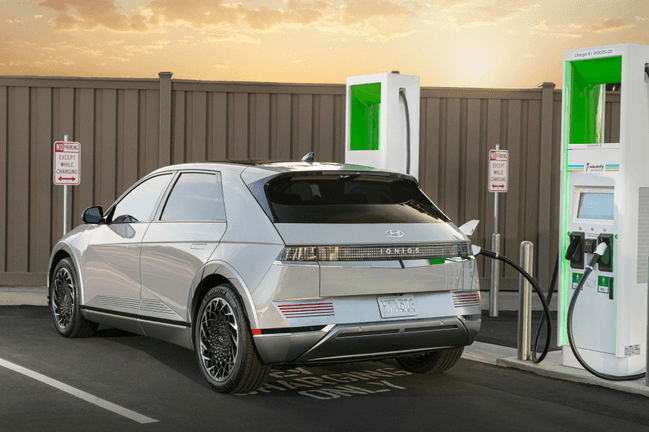 The new all-electric Hyundai IONIQ 5 dominated in all three categories in which it was nominated by the 2022 World Car Awards (WCA) at the 2022 New York International Auto Show. It significantly outperformed its renowned competitors like Audi, Mercedes-Benz, Kia, and Ford, earning the top spot in every category: Performance, Value, Safety, Occupant Environment, Environment Market Significance, Emotional Appeal, and Innovation. 
Introduced as the first of Hyundai's EV line, The IONIQ 5's 'World Car of the Year,' 'World Electric Vehicle of the Year' and 'World Car Design of the Year' titles are in addition to the generous amount of global awards received since its launch only a year ago, including Best New Car from Autotrader, German Car of the Year, British Car of the Year, UK Car of the Year, Auto Express' Car of the Year, and Auto Bild's Electric Car of the Year. 
This innovative EV crossover offers 4 trim options: SE Standard Range, SE, SEL and Limited, with a starting base price of $39,700 and an available $7,500 Federal Tax Credit. All trim options boast handsome features, from advanced technology, versatile interior, and futuristic characteristics, to high-capacity lithium-ion polymer battery systems that allow for a whopping 303 mile driving range. 
It's no wonder the jury panel, comprised of over 100 prestigious automotive journalists from around the world, were impressed at this year's WCA. "The IONIQ 5 has established itself as a perfect flagship model for Hyundai Motor Company, which has laid a foundation in the global EV market with a suitable balance of retro and futuristic design and flexible interior space. In particular, the design of the IONIQ 5 gives a fresh feeling by realizing excellent proportions based on seamless technology, and the interior design and materials also show modernity," per the panelists. After all, what's not to enjoy when you can customize your car to mock your living space to include a spacious vision window and full-reclining driver's seat with leg rest? Yes, leg rest! 
Now that the IONIQ 5 has established a proven record of being the best among electric vehicles, if you've been considering making the switch from a traditional internal combustion engine to an eco-friendly EV, now is the time. Our dedicated sales team at Hyundai of Mankato are available to help you choose which IONIQ 5 trim suits you!