Hyundai SONATA vs Honda Accord
The Hyundai Sonata is here! This family sedan is proof that the future is here – and it is handsome. The Sonata is now the most advanced car available in South Central Minnesota with its unique styling inside and out, as well as a pair of highly efficient and powerful drivelines.
We understand that you may be considering other family sedans, which is why we at Hyundai of Mankato would like you to take a look at how our Sonata stacks up to one of its competitors – the Honda Accord.

---
Why would you consider a new Hyundai SONATA over the Honda Accord?
The Sonata offers features not available on its competitors, such as the available Remote Smart Parking Assist, fully digital instrument cluster, Hyundai Digital Key, Blind Spot View Monitor, and many more!
Hyundai's New Vehicle Warranty is covered for 5 years or 60,000 miles, along with our Powertrain Warranty that goes up to 20 years or 200,000 miles.
The key to the Sonata is its value. It has the best value for the money of any vehicle in its class!
Which family sedan should you choose? The Hyundai Sonata – hands down!
Come see the new Hyundai Sonata at Hyundai of Mankato today. Contact us to see why it is one of the best in its class right now!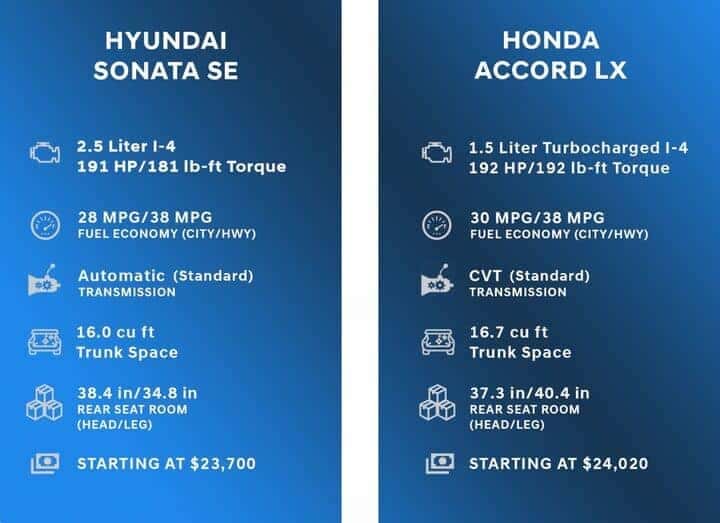 Hyundai of Mankato is located at:
1281 Raintree Rd • Mankato, MN 56001