What new for the 2023 Hyundai Palisade?

The new Hyundai Palisade dons some impressive upgrades. It comes with updated designs for the interior and exterior, a new infotainment system, safety features, and driver assistance systems. This updated model is everything you could want in a spacious family-friendly SUV.
Fresh Designs
Vertical LED lights frame the SUV's grill creating a striking and unique look. That isn't the only design change that was bestowed upon the latest model of the Hyundai Palisade. New 20-inch multi-spoke wheels and strake detailing on the lower skids help give the Palisade an appealing and rugged look.
These design upgrades aren't limited to the exterior. The new Palisade has a redesigned instrument panel and slim air vents helping to emphasize the spacious feel of the interior. The Palisade comfortably seats 8-people while still leaving for cargo.
Convenience and Safety
There are plenty of convenience-based features that come with the new Palisade. Some of these include a 12-inch navigation with 720p resolution, WiFi hotspots, and more. Dynamic voice recognition, USB ports, and wireless charging features have all been enhanced for the 2023 model.
The Digital Key 2 Touch feature lets drivers leave their keys at home. This feature allows the car to be unlocked and started from an iPhone, Apple Watch, or Samsung Galaxy smartphone.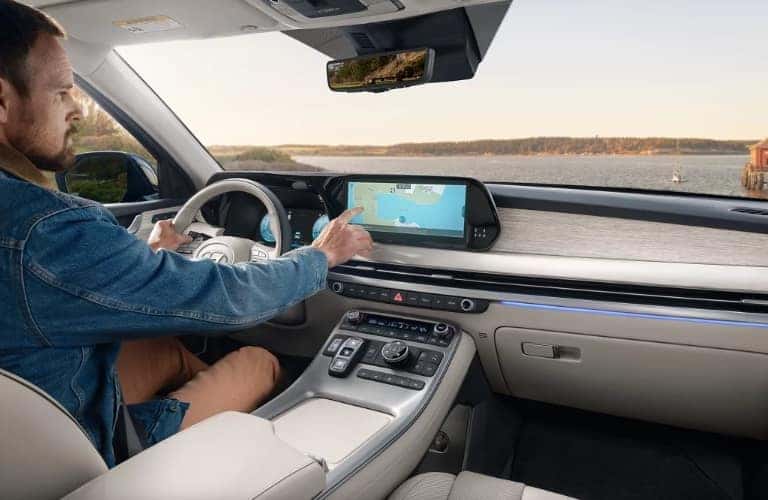 The new Palisade has no shortage of advanced safety features. Rear side-impact airbags have been made standard for the 2023 model. Lane Keeping Assist and Lane Following Assist help the driver to stay centered and in their lane while driving. Forward Collision-Avoidance Assist can aid in avoiding collisions in a multitude of ways.
Some other safety features available with the Palisade include Blind-Spot Collision-Avoidance Assist, Safe Exit Assist, Driver Attention Warning, High Beam Assist, Navigation-based Smart Cruise Control, Rear Cross-Traffic Collision-Avoidance Assist, Highway Driving Assist, and Remote Smart Parking Assist.
Experience the Palisade
The new Hyundai Palisade checks every box that an SUV can have. Make your way to Hyundai of Mankato to experience the Palisade for yourself. The staff at Hyundai of Mankato is here to assist you every step of the way.