Hyundai IONIQ 6 Range and Technology Features
The all-new Hyundai IONIQ 6 is a technological masterpiece. The vehicle's impressive range and technology features make for a revolutionary driving experience. This all-electric driving experience can last for approximately 379 miles before needing to be plugged in.
What powers the IONIQ 6?
A long-range 77.4-kWh battery is the heart of the IONIC 6. This battery can be paired with a rear-wheel drive or all-wheel drive electric motor layout. The incredibly efficient IONIQ 6 can support the standard 800-V charging infrastructure and a 400-V. It takes just 18 minutes for the vehicle's battery to charge from 10 percent to 80 percent.
Now that you know what powers the IONIQ 6, it should be noted that IONIQ 6 can also be a source of power. This vehicle-to-load (V2L) function is valuable during power outages, camping trips, or any outdoor project that you can think of. This function can be accessed with an adapter for the outside charging port. On top of the V2L function, there is an outlet in the second row of seats to charge cell phones, laptops, or any other device.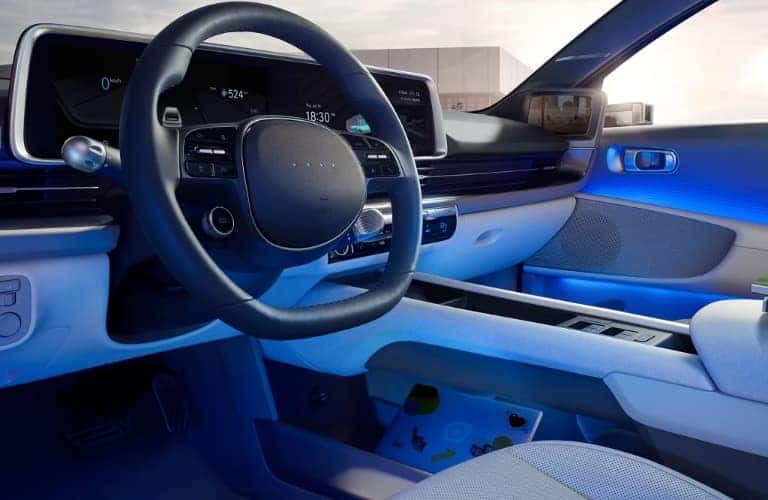 Technology Features
Resting at the front of the interior sits two 12-inch touchscreen displays. One of these screens houses customizable digital features. Sitting next to that screen is the infotainment display. This screen houses Apple CarPlay, Android Auto, and Bluetooth connectivity. These features allow the user to connect their device to the premium Bose sound system that includes eight speakers, including a subwoofer. 
The IONIQ 6 is Hyundai's first model that offers another impressive feature. Over-the-Air software updates allow the driver to upgrade the various electronic features of the vehicle. Also, the IONIC 6 Digital Studio is another cutting-edge feature of this model. This studio allows users to experience the IONIQ 6 in a virtual reality environment. 
Come See for Yourself
The IONIQ 6 will be one of the most cutting-edge and efficient cars on the road. The IONIQ 6 will be available in early 2023. Head to Hyundai of Mankato to experience the IONIQ line and a vast selection of other models today.